California Instruments Asterion AC Series
500VA – 9000VA High Performance Programmable AC and DC Power Sources
Performance. Reliance. Brilliance.
Inspired by the enduring power of a brilliant star, the California Instruments "Asterion" line of AC power sources by AMETEK Programmable Power combines intelligence and flexibility to create an advanced platform of AC solutions. Its sleek design packs maximum power density into a low-profile form factor with an intuitive touch screen interface placing that power at your fingertips. Centralized control and unparalleled modularity makes Asterion the most adaptable platform on the market. Its groundbreaking capabilities set the standard for affordable, precision power sources.
IX2 Current Doubling Technology.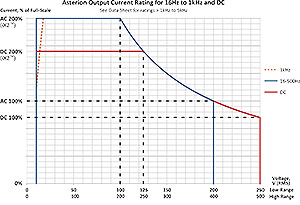 All Asterion sources employ AMETEK's latest current enhancing technology, iX2™. The iX2 current doubling technology enables output current to increase linearly up to two times the full voltage current as the voltage decreases from range maximum to one-half of range voltage. iX2 technology results in a source that delivers full power over the widest voltage ranges. This eliminates the need to buy overpowered sources just to reach low line current requirements.
Advanced Features
Intuitive Touch Panel Control
IX2 Current Doubling Technology
Multi-Language For Global Operation
Auto Paralleling For Higher Power
Combine Units For Multi-Phase Configurations
Complete Optional Avionic Test Suites
ATE version Available
Asterion AC Virtual Panels (Graphical User Interface)
Virtual Panels allow remote control of the Asterion AC power source, as well as programming communication and monitoring for the Asterion ATE model, without front panel display.
Contact us today to learn more, and receive a free demo and quote: sales@smainc.net.