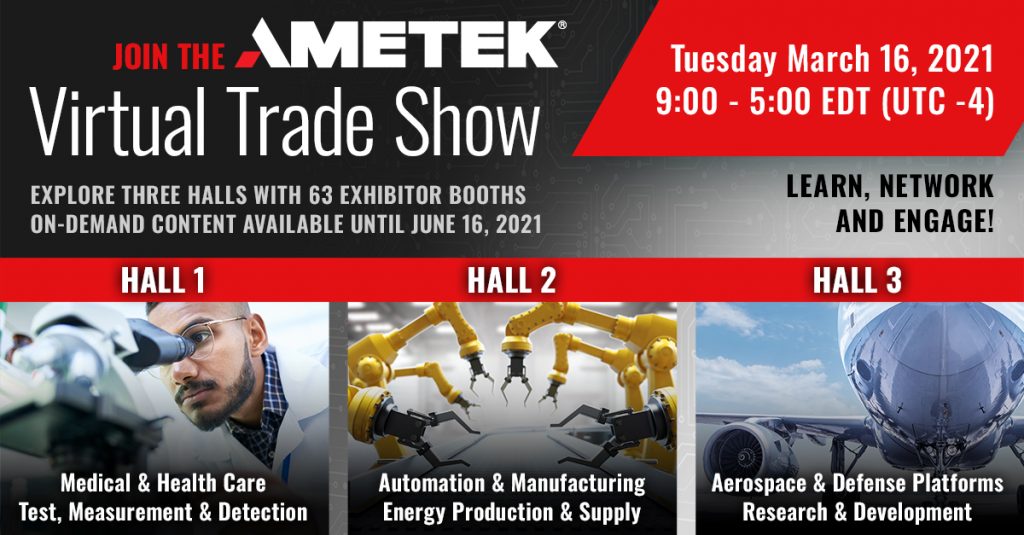 The AMETEK Virtual Trade Show is nearly here! AMETEK is hosting a Virtual Trade Show from 9 AM to 5 PM EDT on Tuesday, March 16, 2021.
The show will feature exciting news and information about products and solutions from across AMETEK's business units, and all are welcome to attend. Please feel free share this invite with any colleagues/customers that are interested in attending.
The AMETEK Virtual Trade Show will be divided into three virtual exhibition halls:
Hall 1: Medical & Health Care and Test, Measurement & Detection
Hall 2: Automation & Manufacturing and Energy Production & Supply (Visit Ametek Programmable Power Here)
Hall 3: Aerospace & Defense Platforms and Research & Development
For those unable to attend live, or those wanting to revisit information at a later date, all online content will be available until June 16, 2021.
Once you register, attendees will be given access to a digital briefcase to download documents of interest during and following the event. Learn more about the AMETEK Virtual Trade Show here.