Immunity Tester With 8KV Pulses & Touch Panel Control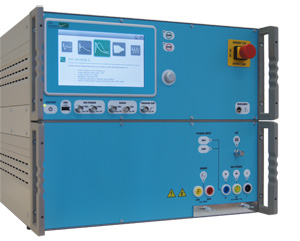 New ideas and new technologies are needed to meet the demands of a constantly evolving market. IMU3000 introduces a graphical user interface that every mobile device user will recognize. Easy navigation using a touch panel and rotary knob make IMU3000 the most powerful addition in every EMC laboratory. An Ethernet interface enables control, communication and report generation using the ALL NEW TEMA 3000 software with custom report generator.
Modular architecture enables on-site upgrades saving time and money.
Surge voltages up to 8kV combine with EFT up to 6kV to make IMU3000 the automatic choice for manufacturers and test labs wishing to cover all international standards.
IMU3000 is packed with new features making setup simpler and faster.
IMU3000 Key Features:
Modular Architecture
EFT Up To 6KV
Surge, Ringwave & 10/700MS Up To 8KV
Simple Touch Panel Navigation
Link Tests Into A Sequence
Large Range of Accessories
Download the pdf for more information about the IMU3000 here:
 HV Technologies IMU3000